Secondary School
We seek to go beyond what students should know to what they are capable of by tapping the root of their motivation. Much attention is given to learning the soft skills of collaboration, self-correction, and self-assessment. We aim to equip students with the ability to make connections in their learning, develop intrinsic motivation, approach problem-solving enthusiastically, critically evaluate their work, and take a growth mindset in their learning practices. Through this, they learn to become confident and independent learners that take charge of their own learning. We invite our students to engage with subjects conceptually and flexibly, rather than focusing only on procedures, as this requires them to think creatively and use logic when exploring topics.
Our secondary programme supports students in becoming the adults of tomorrow by developing their intellectual capacities along with qualities, attitudes, understandings, and a sound framework that will enable them to make growing contributions to society.
Our Lower Secondary School is registered with the Ministry of Education of Slovakia enabling our students to transfer to any Slovak school. Similarly, our students will be well prepared to join any school should you move abroad, including more than 10,000 schools with Cambridge Assessment in over 160 countries worldwide.
Year 7
(age 11-12)
Year 8
(age 12-13)
Year 9
(age 13-14)
Curriculum
In the Lower Secondary, emphasis is placed on nurturing analytical thinking and inference skills refined through a broad selection of topics from a personal, local, and global perspective. We continue building on the subjects taught at the Primary level, delving further into each subject. All these subjects will be taught in a transdisciplinary way, in line with 21st-century learning.
Subjects offered: English, Maths & Science (Biology, Chemistry & Physics), Music, Art, History, Geography (human & physical), Computer Science, German (as a second language), Slovak (for our Slovak-speaking learners), Character Building & Empowerment Placement Programme, Diversity, Inclusion & Global Awareness.
Cambridge International Curriculum
Key Stage 3 - Lower Secondary
Cambridge Assessment International Education (CAIE) prepares students for life, helping them develop an informed curiosity and a lasting passion for learning. CAIE is part of the University of Cambridge. Cambridge international qualifications are recognised by the world's best universities and employers, giving students a wide range of options in their education and career. CAIE delivers high-quality educational programmes that can unlock learners' potential. Their programmes and qualifications set the global standard for international education. They are created by subject experts, rooted in academic rigour and reflect the latest educational research.
Over the years, our students have performed well in their Cambridge standardised examinations and we firmly believe that this will continue through our secondary school years.
Mathematics & Logical Thinking
We believe that every child possesses vast mathematical potential and that through ample support, motivation, and prepared learning spaces all our students are able to make it their 'cup of tea'. We begin the year with a week of inspirational maths (inspired by Joe Boaler) and the course content that follows is taught visually and creatively in the form of open questions that spark inquiry. Using real-life examples and hands-on materials, our students are able to move beyond calculus to focus on reasoning, understanding, application, and logic. As such, our students are motivated and enjoy mathematical challenges where they are able to explore their abilities.
English Language
Equipping our students with an excellent command of the English language is of utmost importance for us as it maintains high standards and prepares our students for higher education abroad. As our students grow older, we make every effort to nourish and maintain their love of reading, and explore literature and poetry in-depth.
Science & Environmental Education
As our students move into the secondary years, biology, chemistry, and physics will be taught by specialised educators. Our newly built secondary building comes with a well-equipped science laboratory. In line with our pedagogical approach of interactive and hands-on learning, experiments are a key component of our secondary science curriculum. Learning through current and real-life examples whether they are on alternative sources of energy, air pollution, weather, and climate change or wastewater management, connects the learning in the classroom to wider discoveries, the current needs of society, and practical implications of learning.
Environmental Education
In recent years we have implemented a thorough environmental education programme throughout our kindergarten and primary school. In the secondary years, our students build on their previous knowledge and awareness.
Similarly, the presence of our certified natural garden means our students have the space to observe minibeasts, pond life, and a wide array of flora that is often difficult to find and observe in the city. The interdisciplinary approach towards sustainable education and science education equips our students with a practical and intellectual understanding.
Computer Science (Robotics, Coding & Programming)
We are aware that the need to modernise and become data literate is increasingly important for the 21st Century workplace. Therefore, we have incorporated computer science into our curriculum, beginning in the primary years and following through in secondary school. Great emphasis is given to understanding the safe use of technology. Through play and individual and group projects, our students begin to gain not only the skills of robotics, coding, and programming, but also an understanding of the value and application of technology in the wider world.
Character Building & Empowerment Placement Programme
Our aim is to educate well-rounded individuals who not only develop their own selves but also grow to engage in acts of service and contribute towards the progress of society as a whole.
Our numerous community and service projects place us in an excellent position to offer our students the possibility of taking part and engaging in service. Whilst having a chance to take part, our secondary students have the unique opportunity to take on a larger role in the organisation, management, and direction of our projects. Working closely with our staff team, our placement programme offers the chance not only to gain exposure to the economic value of work in a safe and supported environment and develop a sound moral framework, but also offers the chance for students to apply their interests and engage in the progress of society as active agents of change.
Unity in Diversity, Interdependence & Global Awareness
The focus on Unity in Diversity, Global Awareness, Interdependence, and Oneness of Humanity was a conscious decision to facilitate raising world citizens. As a result, our students develop an ability to engage in discourse on the arts, history, music, religion, equality, and many other subjects at a mature level. A global understanding developed through discussions and independent investigation of subjects, whether it is human geography, philosophical beliefs, world religions, and cultures, brings students the answers to many of their questions. This is also a chance for our students to build a culture of discussing deeper subjects and developing their power of expression with their peers. Learning about world religions and cultural practices, music, cuisines, and traditions help our students learn to respect, accept, and understand large populations across the world, which we find to be imperative as we are equipping our students to be world citizens, ready to make their home anywhere in the world.
As part of our curriculum, we also introduce and explore current discourses and societal inequities in a safe space so that students are empowered to contribute towards making a change. Rather than discouraging or stunting their action, we focus on first understanding the causes and consequences in order to find solutions, and we believe in leading by example by starting at our very own school.
Arts (Music, Fine Art & Drama)
Music
Music accompanies the growth of our students from an early age and is at the core of our institution. At Brilliant Stars, we have students playing cello, piano, recorder, guitar, and violin. Overall, more than 80% of our students are learning to play an instrument at school, many of whom play a second instrument. We have in-house instrumental teachers, many of whom hold a PhD, and have a range of international experience both in performance and education.
Fine Art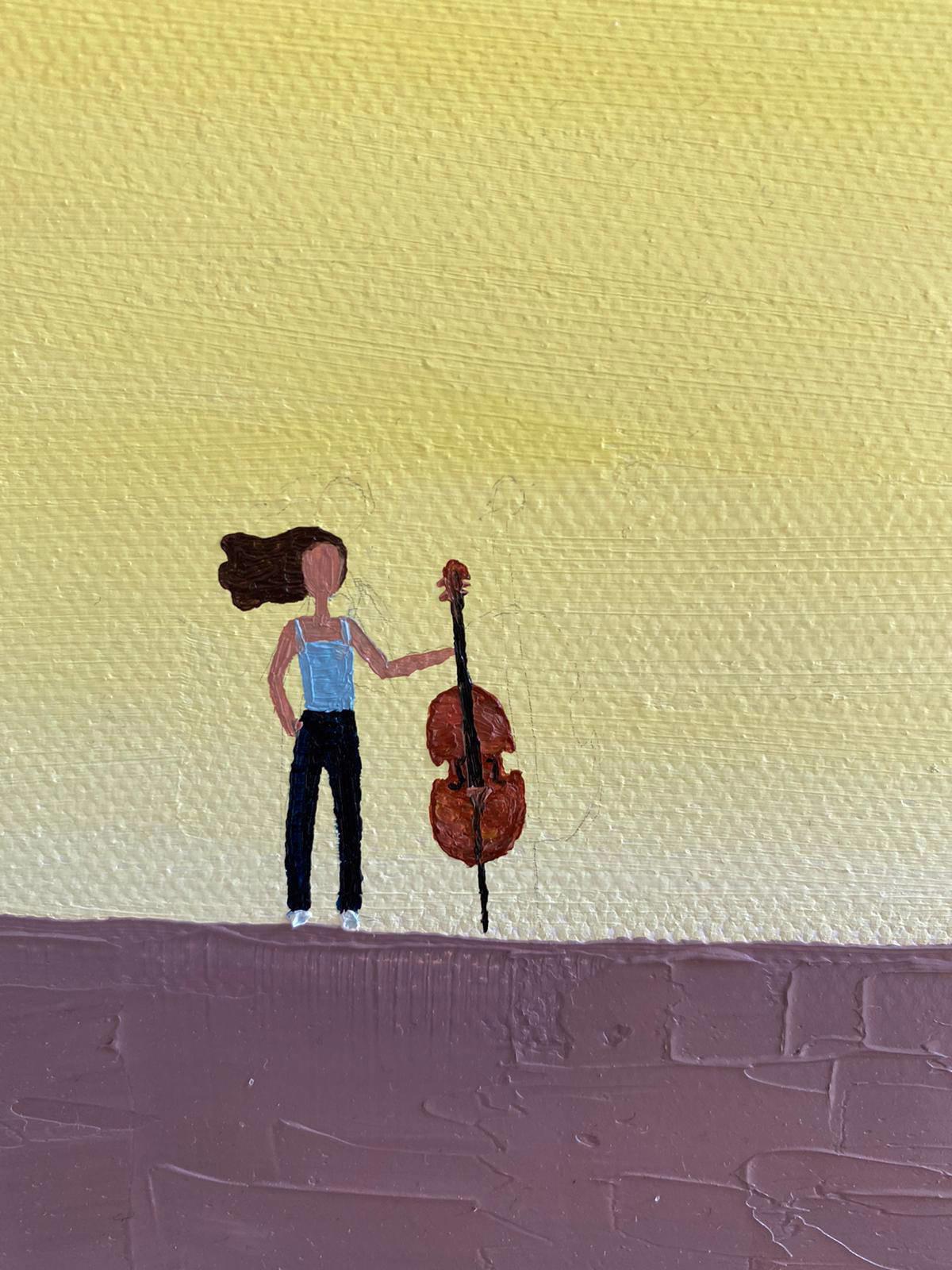 In the secondary years, our students are offered workshop sessions to deepen their competence in fine art, develop skills, and experiment with a range of artistic styles and materials. Through guided support, our students are able to explore their personal artistic abilities and refine techniques to better express themselves and create beautiful works of art. The same is complimented by a series of visits to art museums and a general introduction to the theory of fine arts.
Drama
Our secondary students have the space to refine their verbal and nonverbal communication skills through regular exposure to drama that flourishes at the end of the year event. The secondary school students are in charge of planning, organising, coordinating as well as co-writing and performing an end-of-year complex musical drama, involving all students.
Film & Photography
Throughout the year, our students have numerous opportunities to get involved in photography and film. Activities range from workshops with inspiring professionals to free fun assignments to document the school progress. We have directors and producers accompany them through the whole process of a short film: writing scripts and directing their own short films. We also have photographers that will work on developing the eye in terms of framing and beauty and nurturing the basic notions of photography.
Secondary School
Nurturing logical minds, critical thinkers, and kind hearts.
Pedagogical Approach
We embrace one of the world's top academic curricula, the Cambridge International Assessment, and educate our students through a uniquely blended approach incorporating a number of pedagogical approaches such as our Character Building programme, the Montessori pedagogy, and 21st Century learning methodologies. We offer holistic education, value the one-of-a-kind nature of each of our students, and thus create an environment where each child is able to individually explore their interests with guidance and encouragement.
While helping each child to progress, we are careful not to burden them with unnecessary exams and tests. Rather, we use regular informal and systematic assessments to guide learning and respond to the needs of the students. In this way, our assessments are a method of better understanding the knowledge, skills, attitudes, and beliefs of the children in order to refine and improve their personalised learning plans. Our small group sizes enable our students to each have ample quality time with their teachers, facilitate the formation of strong friendships, and give students the space they need to explore their own interests with much support and guidance.
Montessori Pedagogy
Maria Montessori defined adolescence as the sensitive period towards social awareness, where there is a major passage from the "I" to the "We". We make it our task, at Brilliant Stars, to respond to such inner drive. We implement Montessori's vision of adolescence as a transitional period and we provide tools to respond to adolescent students' great potentials, including their capacity to take over responsibilities. The aim is to develop a consciousness towards society and we use Socratic discussions, service projects, democratic decision making, consultation, independent project-based learning, and socio-emotional and environmental awareness to support the growth of our students.
Transdisciplinary 21st Century Learning
21st Century Learning demands more than a classical school curriculum subject base. There is a requirement to see the bigger picture and to implement transdisciplinary learning. Our aim is to provide our students with tools to respond to their inner drives, materialise their ideas, strive for the joy of following one's interest, and become in charge of their own education. We believe in offering an education that is respectful of all students and their learning process and enthusiastically supporting them with encouragement and love. Through the presence of inspiring professionals and many role models, we offer our students continuous stimulation and encourage a growth mindset.
Individual project-based research projects.
Blended Approach Incorporating the Montessori Approach.
Interactive & Hands-on Learning.
Individual Learning Plans & Daily set-up.
Interconnecting all elements of our curriculum to offer students a holistic education.
Systematic Informal Assessments.
Small group sizes that enable quality time between the teacher and each student and facilitate the formation of strong friendships and relationships.